In our quest to provide our patients with the latest cutting edge technology, the iTero Element intraoral digital 3D scanner by Invisalign is the latest new technology available at Orthodontics at Don Mills in Toronto.  Our patients can now avoid the messy and gooey dental impressions previously taken during their Invisalign treatment and study models.  It is the cutting edge in technology and aligns with our mission in providing our patients with the latest and best technology.
In only approximately 5-10 minutes, a detailed and accurate 3D image of your mouth is captured for immediate viewing!  This avoids the gagging associated with dental impressions and allows us to accurately treatment plan on the spot.
How the scan is made, is that a sophisticated wand (similar to a large size pen) takes many quick pictures of the different areas of your teeth and gums.  These are quickly streamlined into a complex software that replicates these images for immediate display on a screen.  This is saved as an stl file.  This file can then be sent to the dental laboratory where appliances can be custom made for a variety of different orthodontic purposes.  This file can also be sent to Invisalign (Align technology) which is incorporated into a software program. Dr. Noble and Dr. Cassolato then communicate with this software program to fabricate a series of custom made trays, or aligners.  Aligners are made by Invisalign and are worn by patients through the day.  The aligner fits tight so that it creates a slight amount of pressure and it is changed each week . With each week, more pressure is added according to the program of your orthodontist.  Slowly, the teeth move, in a very biological and pre-determined way, provided the aligners are worn.  And slowly, your teeth get straighter and straighter as the bite is programmed to also fit well in three dimensions.  With the iTero scanner, these trays are manufactured from very detailed measurements and the accuracy of these appliances is remarkable. You can learn more about the iTero digital scanner by viewing the following video:
https://www.youtube.com/watch?v=FaKlXK01Z8s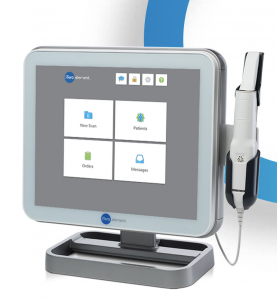 If you have any questions about the iTero element or digital scanning for your Invisalign treatment in Toronto, please don't hesitate to call Orthodontics at Don Mills at 416-447-1515 for your orthodontic needs. The team at Orthodontics at Don Mils is here for you!  We would be delighted to meet you for a complimentary consultation.