Signs the Bite's Not Right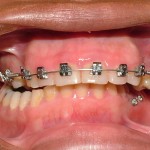 It's not always easy to tell when your child has an orthodontic problem. Even teeth that look straight may be hiding a problem bite. Here are some clues that may indicate the need for orthodontic attention:
• Early or late loss of baby teeth
• Difficulty in chewing or biting
• Breathing through the mouth
• Thumb-sucking
• Crowded, misplaced or blocked-out teeth
• Jaws that are too far forward or back
• Biting the cheek or biting into the roof of the mouth
• Protruding teeth
• Upper and lower teeth that don't meet, or meet in an abnormal way
• An unbalanced facial appearance
• Grinding or clenching of the teeth
For a complimentary consultation, please contact the office of Dr. James Noble at 416-447-1515.
We at Orthodontics at Don Mills are a team of professionals who are committed to listening to your orthodontic concerns and discussing your options with you.   We look forward to meeting with you.