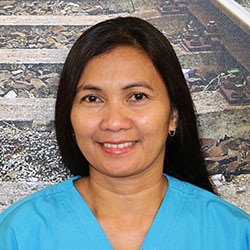 Dental Assistant
Hello! My name is Lucena, I am a certified dental assistant level II here Orthodontics at Don Mills. I am a member of the Ontario Dental Assistants Association and was in the medical field in the Philippines for the past 10 years as a registered midwife. I moved in to Toronto in the year 1999 and decided to go back to school and took the dental assistant program.
I have been working in the orthodontics dental field since 2008. I am excited to be part of the amazing team and work with Dr. James noble and Dr. Sandra Cassolato. It is my pleasure to help you and make you comfortable prior your dental treatment.
I am married and have two wonderful children. When I am not in the office, my family enjoys bonding together in the malls and eating in nice restaurants. I love to go on vacation with my family. I am able to speak multiple languages including English, Tagalog, Visayan, basic Arabic.
I look forward to the privilege of meeting you.