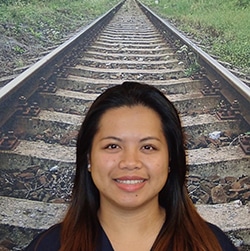 Clinical Coordinator
Oh! Hello there! Thank you for dropping by our page. My name is Novelita. You can call me Novie/Nova for short.
I was born in the Philippines and moved here to Canada when I was 12 years old. It was challenging to figure out what I would like to do for a career. I am glad to have found my passion in the dental field. I graduated from George Brown College for Dental Assisting Levels I & II and passed my board exam. I started working at a general dental office and, thankfully, got referred here by one of my amazing professors.
I am a certified Dental Assistant and proud to work with the dream team: Team Noble at Orthodontics at Don Mills. As a retired orthodontic patient, I can relate and share my experiences with braces with our patients and with YOU! It may be challenging during the process but hey, trust me, it will all be worth it and for sure, you will be smiling non-stop at the end.
Outside work, I like to ride my bicycle, walk around, spontaneous road trips, camping/cottage, and many more! I like to do hands-on projects and learning new things like working on my car with the help of my friend. Now it's your turn to share with us what you like. See you around! Keep smiling!