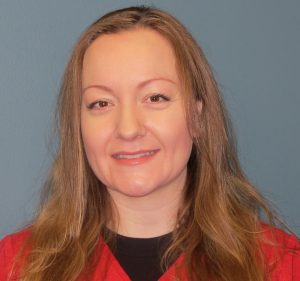 Hi, I'm Wendy!  You can find me at the front desk greeting patients with a friendly smile and taking care of our patients' scheduling needs. I'm so happy to help you with anything you may need and answer any question you may have!
I have been in the orthodontic field for over 8 years. Prior to this, I was a Registered Massage Therapist.  I have lived in east end of Scarborough most of my life and although I'm a Scarborough girl through and through I'm originally from the great land of Newfoundland and I'm true to my newfie roots. An interested fact about me is that my father is a Canadian icon and one of the most famous singer's coming out of Newfoundland, A. Frank Willis. Just YouTube the song "Take me as I am" by A. Frank Willis for a sample of his work.  If you want to have some serious fun, YouTube, "I'm my own Grandpa" by A. Frank Willis and try to follow the incredible song that my grandpa wrote.   I enjoy spending time with friends and family in my spare time; playing board games, watching movies, and hiking.  My bucket list includes learning to play the guitar, taking a family trip to Hawaii, and travelling across Canada to explore our beautiful country.
I am excited to be part of the incredible team at Orthodontics at Don Mills and work with Dr. James Noble and Dr. Sandra Cassolato. What an amazing field to be in where we get to know patients and follow them in an important stage of their lives to give them confidence!  We have an amazing and friendly team at Orthodontics at Don Mills and we work hard for our patients! I look forward to serving you to create amazing smiles!